The Best Places To Celebrate Bonfire Night
Categories

Length

3 min read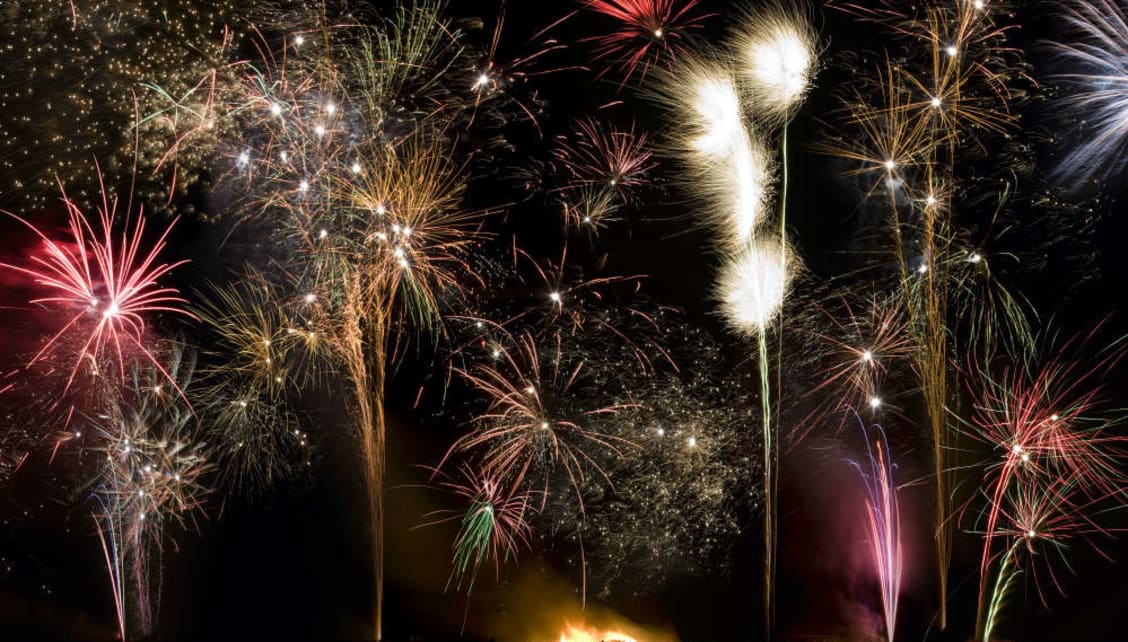 Author

Roomzzz
Bonfire night is a truly unique evening. The whole of the UK gathers around a warm fire, watches fireworks explode with colour in the sky, and kids and adults alike dance around in the cold winter air with sparklers all to celebrate the failure of Guy Fawkes trying to destroy Parliament with a few barrels of gunpowder.

If you're out and about this Bonfire Night, here's a bit of background on why we celebrate it, what food you should enjoy on Bonfire Night and where you can see the best fireworks…

When Is Bonfire Night?
Bonfire Night is on the 5
th
November every year. If you forget, remember the rhyme, "Remember, remember, the 5
th
of November. Gunpowder, treason and plot."
Most places around the UK will celebrate bonfire night on the 5
th
but there will be plenty of fireworks on the surrounding days too. Expect lots of fireworks the weekend before and after if the 5
th
of November is mid-week.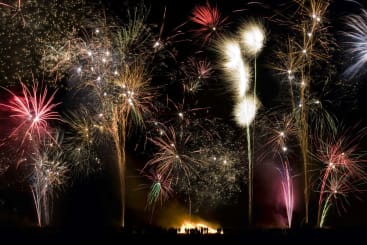 Why Do We Celebrate Bonfire Night?
In 1605, Guy Fawkes, a member of the Gunpowder Plot, was caught placing gunpowder under the House of Lords in Westminster. His aim? Well, he wanted to destroy Parliament but was successfully caught before he could destroy the building and everyone in it. Bonfires were lit around London to celebrate the failure of the Gunpowder Plot and still today, bonfires are lit around the country along with thousands of fireworks to mark this day although there is less religious connotation now than there was in the past.
What Food Can You Eat At Bonfire Night?
Part of the fun of bonfire night is the food. It's a great feeling being stood around a warm fire with a toffee apple or a warm jacket potato with chilli. There are usually hot dogs, burgers, hot chocolate and bonfire lollies to enjoy while watching the fireworks light up the sky. If you're in the north of the UK, you might just come across a cake called Parkin. This cake is a ginger flavoured sponge with syrup and black treacle. This cake is a must eat for many on bonfire night and is well worth a try if you see it at your local bonfire.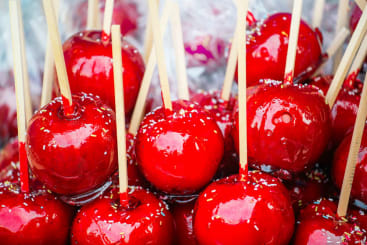 Where Can I Go To Enjoy Bonfire Night?
Here are a few places around the UK where you can enjoy an amazing firework show. It's worth noting that council run bonfires are the most popular but there are also plenty of local ones which you might find more convenient.
Leeds
Roundhay Park
is the biggest bonfire night in the city with 70,000 people in attendance. There are also others at Bramley Park, Middleton Park and Woodhouse Moor where the bonfires are lit at 7pm and fireworks starting at 7.30pm.
Manchester
Manchester knows how to put on a party on Bonfire Night and there are plenty on the 5
th
of November to visit.
Heaton Park and Plattfields Park
both light their bonfires at 7.30pm and they have a funfair on until 9.30pm as well!
Chester
Chester Lions Family Fireworks is the place to be if you're staying at Roomzzz Chester this bonfire night. It's held on the 4
th
November and is a family fun extravaganza with plenty of fireworks and entertainment.
Newcastle
Start of your Newcastle weekend with a bang and head to
Ouseburn Fireworks
on Friday 3
rd
November. Get your sparklers ready and settle in to watch the fireworks that start between 6.30pm a 7pm. Newcastle is then right on your doorstep so you can enjoy the rest of your night out in town!
Nottingham
Nottingham hosts one big free event as a culmination of several weeks of events throughout October. If you go to Forest Recreation Ground, there are two firework shows – one for young children at 19.15 and the main display is at 21.00 and it makes for a really fun night out. Just be aware you can't bring sparklers to the event but there's no harm enjoying them before you get to the venue.
Where are you going to celebrate Bonfire Night this year? Let us know on Twitter at @Roomzzz! If you want to book your next city break with Roomzzz, you can do that today!