We Mean Business: How Aparthotels Are Meeting The Shifting Demands Of The Working World
Categories

Length

3 min read
Author

Roomzzz
We've known for a while that aparthotels fuse the flexibility and space of a city centre apartment with the comfort and service of a hotel. We also know that aparthotels benefit leisure travellers but they also disrupt the world of business travel too. And here's how Roomzzz Aparthotels are doing just that…

A cross between an apartment and a hotel, Roomzzz gives you the best of both worlds. We not only attract the weekend warriors, culture vultures, and family units, but also corporate guests too.

In recent times, we've noticed that corporate guests and those travelling for business have had demands that have either changed, or they've not been catered to well enough. And Roomzzz Aparthotels are filling that gap.

As well as great city centre locations – perfect for being able to get to those morning meetings on time – there's also plenty of space for guests to spread out. You won't find any boxy rooms here! Roomzzz Aparthotels also have a 24-hour concierge service that provides the security and service to match any top hotel.

We also know that business guests especially sometimes have to stay longer. To counteract the fact that you might not want to dine out every night, we have fully fitted kitchens in every room so that you can cook up a storm and really relax after a long day at work. We really want you to make this place your home away from home.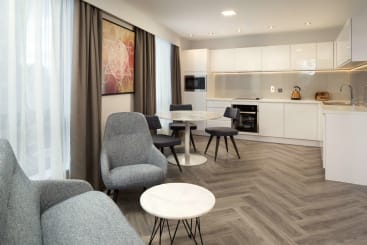 And that's why aparthotels like Roomzzz are growing in popularity. Not only do they provide a home away from home, but they offer everything a hotel offers and more. In 2017, the UK aparthotel market accounted for 6 percent of hotel investment. This is an increase of 2% from 2011. This figure is more than likely set to rise as 49% of Airbnb customers start to move away from traditional hotels.

However, the aparthotel sector that Roomzzz proudly sits in, is becoming more and more popular with business travellers because the benefits of aparthotels are second to none.

Grab & Go breakfasts mean you can run out the door on your way to work. Alternatively, you can pick what you want from the fresh pastries and fruit and take up to your room just in time for your business call. There are meeting spaces near reception where you can close that hard fought for deal or have a casual catch up with a colleague. If you have a business presentation that has to impress, then the fast, free, Wi-Fi will keep business travellers connected, and complimentary bean-to-cup coffee with keep you going whenever you need a bit of extra energy in the morning.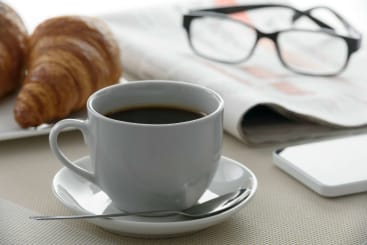 At Roomzzz Aparthotels, we also understand that a good night's sleep is vital to being able to work hard the next day. That's why our 2000 sprung mattresses are some of the most comfortable around.

As our brand expands, so do we, and in our newest locations – Roomzzz Manchester Corn Exchange and Roomzzz London Stratford – we've included gyms so that you can stick to your fitness routine even when you're away with work.

The changing demands of the working world mean that business travellers don't just want a room with a bed anymore. They want a home away from home. A place they can continue their lifestyle and a place that's comfortable, convenient in location, and provides the best service for guests. It means that the corporate guest can get on with the work they need to but at the same time, have a place to relax when the work is done.



Get in touch and we'll work out exactly what you need – then a great rate to match.  Call 0203 504 5555 or email sales@roomzzz.com

If you're staying at Roomzzz, don't forget to use #Roomzzz on your social posts to be in with the chance of winning a free night at a Roomzzz Aparthotel location of your choice!