A Guide To Serviced Apartments At Roomzzz
Categories

Length

3 min read
Author

Roomzzz
You might be wondering, "What are serviced apartments?" Well, here at Roomzzz we provide a whole range of self-catering serviced apartments for a luxurious stay away from home. If you want to know a bit more, and whether they're right for you, here's a guide to serviced apartments at Roomzzz and how Roomzzz do it slightly differently…
What Is A Serviced Apartment?
A serviced apartment is everything you could ever wish for. It's more spacious than a hotel room and more luxurious than a regular apartment. A kitchen, en-suite bathroom, and dining area come as standard in your Roomzzz serviced apartment and in some, you'll even find a walk-in wardrobe. You can truly make your apartment a home away from home, and you have the luxury of coming back to a clean apartment and a freshly made bed every day.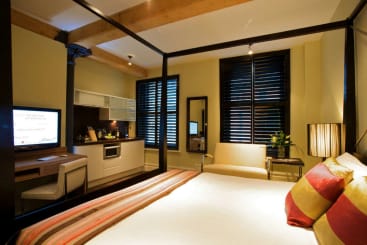 How Can You Benefit From A Serviced Apartment?
If you want more room on your city break or an ideal place for an extended stay, a serviced apartment is the ideal place. Not only do Roomzzz provide cooking facilities so you can cook your favourite meal, there's free Wi-Fi so you can do your work, and for a convenient breakfast you can pick up a fresh pastry from our Grab and Go breakfast bar. We take all the stress and hassle out of staying somewhere new so you can enjoy your spacious serviced apartment when staying at Roomzzz.
There's also the added benefit of being able to stay for as long as you like. Whether you're in town for one night or one month, you can stay as long as you need at Roomzzz. This might save you money and gives you the flexibility to extend or reduce your stay as and when needed.
Are Serviced Apartments Suitable For Families?
Yes, serviced apartments are a perfect option for families looking for a home away from home on a city break. You can cook, eat, and sleep in one space which makes spending time together as a family a lot easier. You can even have inter-connecting rooms so when the kids are snoozing in the evening, the parents have got room to enjoy a movie and a relaxed drink to end the day.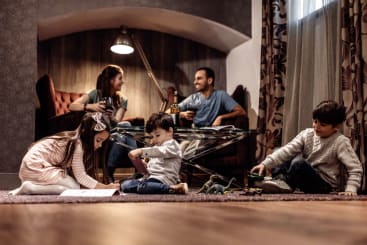 If you ever need any help too, at Roomzzz we have 24 hour concierges – something traditional serviced apartments don't usually have. That means if you ever need anything, you can let us know no matter what time of day it is!
Are Groups Of People Allowed?
At Roomzzz, we know you want to enjoy your time. You might be on a hen do, or in a group that's celebrating a friend's birthday. We welcome groups at Roomzzz serviced apartments because we know the best memories are created when you're with your nearest and dearest. Our penthouse suites are perfect for larger groups of people, and you get the bragging rights of saying you're staying in the penthouse!
So, what questions do you have about serviced apartments at Roomzzz? Let us know on Twitter and we can help with any queries you might have!