3 Ways You Can Work Out In Your Roomzzz Aparthotel
Categories

Room to be yourself
Business travel tips

Length

3 min read
Author

Roomzzz
Don't worry about your exercise routine dropping off just because you're in a different location. At a
Roomzzz Aparthotel
, it's easy enough to keep up your fitness levels by doing a work out in your room. Yes, there is enough space to do a work out in your aparthotel!
If you're feeling energetic, here are 3 workouts you can do in your Roomzzz Aparthotel…
Yoga
Bring your mat along and you can practice your downward dog and sun salutations in peace at Roomzzz. You can easily go through a familiar yoga flow or plug into the free Wi-Fi on your laptop or iPad to learn some new moves from YouTube. It's the perfect way to start your morning before you get your
Grab & Go breakfast
or alternatively you can relax in the evening to ensure you get a good night's sleep.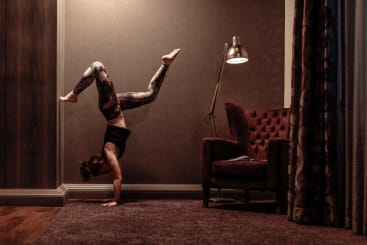 Resistance Training
Bring a resistance band with you to work those muscles even when there's no gym space. There's enough room for you to be able to stretch out to the max and one of the benefits at
Roomzzz Aparthotel
is that you can do it in the complete comfort of your own room. Also, there's no fighting for the shower post-workout – you can just walk straight into your en-suite to freshen up after.
Cardio Workout
Forget the treadmill, get doing cardio workouts in your Roomzzz Aparthotel with a sequence of jumping jacks, mountain climbers, high knees, planks, burpees, squat jumps, and lunge jumps. You might have a sequence of your own already or if not, there are plenty online which can be completed in as little as a few minutes. They'll get the blood pumping and keep you feeling fit and healthy even when you're staying away from home.
Do you have any workouts you do when staying at Roomzzz? If you do, let us know over on Twitter! Also, don't forget, if you use #Roomzzz on your social media posts, you could be in with the chance of winning a free stay at Roomzzz in our monthly prize draw!
Book your Roomzzz Aparthotel today and we look forward to seeing you soon!