A Guide To Spending 36 Hours In Nottingham
Categories

Length

3 min read
Author

Roomzzz
If you have one night and 36 hours in Nottingham, here's what you should do. This city has a friendly atmosphere, some amazing coffee shops, and a quirky side that's waiting to be explored. Here's how to spend 36 hours in Nottingham to get the most out of your stay at Roomzzz…
Day 1 In Nottingham
Set Off For Roomzzz Nottingham
8am
Set off to Roomzzz. Yes, it's an early start but you only have 36 hours to explore this city so it's the best way to make the most of your 36 hours in
Arrive in Nottingham
9.30am
Arrive at
Roomzzz Nottingham
and drop your bags off so you don't have to carry them around all day. If you're driving, take advantage of the secure underground parking at Roomzzz. It's only £10 and you can leave your car there before you check in and after you check out. This gives you maximum time to explore the city. If you're coming to Roomzzz on the train, it's only a 20 minute walk from Nottingham Train Station to Roomzzz Nottingham. So take a steady stroll through the city – grabbing a coffee from 200 Degrees on the way – or hop in a taxi to make the journey quick and easy.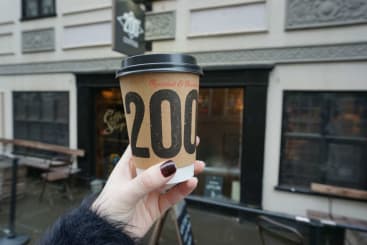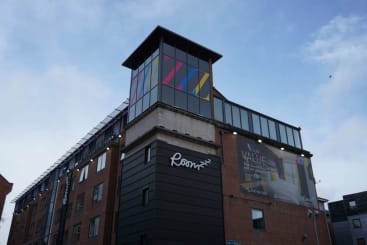 Brunch At Delilah
10am
Brunch at Delilah. By now you'll probably be quite hungry by now so head straight to Delilah from Roomzzz Nottingham. Take a seat at a table on their mezzanine floor, and peruse Delilah's menu which includes dishes such as French toast, smoked kipper, gourmet breakfast, and avocado on toast. If you want to take a bit of Delilah home with you, there's a fully stocked deli on the main floor with locally sourced produce.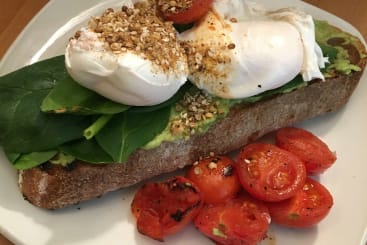 Visit Nottingham Contemporary
11.30am
After brunch, head to the Nottingham Contemporary. This small but engaging art gallery is the perfect way to spend an hour of the day. The exhibitions change often here but each is meant to be visually pleasing and thought provoking. Make your way through each of the galleries before ending your visit with a little browse of the gift shop which is full of quirky gifts and individual pieces of art.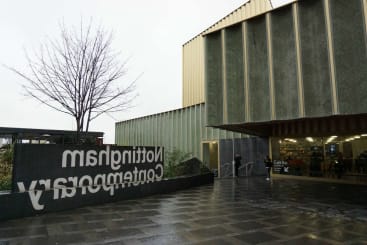 Doughnotts
1pm
1pm is time for doughnuts. And in Nottingham, there's nowhere else to go other than Doughnotts. Situated directly on Old Market Square, Doughnotts has a fun selection of doughnuts, some of which are vegan. Will you choose the red velvet, lemon meringue, or the chocolate heaven? Be prepared, you might want to go back for more later in the day…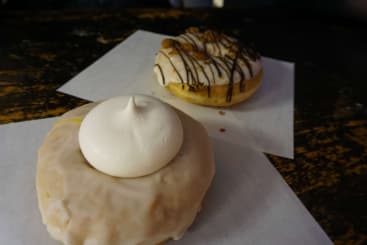 The City Of Caves
1.30pm

Head to Broadmarsh Shopping Centre for a true Nottingham experience. There are caves all around Nottingham and the most easily accessible one is just at the entrance of the shopping centre. During the week, you'll be able to take an audio tour through the caves but at the weekend, actor led tours really bring the caves to life. The cave guides explain the archaeology of the caves and tell you all about how they were once used as dwellings for the people of Nottingham. Ensure you're wearing good shoes as there are 29 steps down to the caves and the floor can be uneven in places.
Outpost Coffee Roasters
3pm

It's time for a little pit stop at Outpost Coffee Roasters. If you're lucky, you'll be able to grab a seat by the window but if not you can always get a coffee, hot chocolate or tea to takeaway. When sitting in, you'll be able to soak up the atmosphere of this indie coffee shop, sip a hot drink while listening to the likes of old Kanye West and Jay-Z, and maybe even try a cake or two. The babka, banana and walnut bread, and salted caramel brownie caught our eye…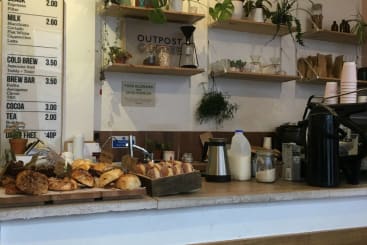 Take A Stroll Around Nottingham Arboretum
4pm
Nottingham Arboretum is a short walk away from Roomzzz Nottingham so it's the perfect place to go before heading back to freshen up for the evening. This place is Nottingham's oldest park and contains several award winning trees. There's a tree trail you can take through the park where you'll be able to see several of the 65 species of trees in the arboretum. Alternatively, wandering around the arboretum is a relaxing experience – you wouldn't think you were in the centre of the city at all.
Check Into Roomzzz Nottingham
5.30pm
After a busy day, it's time to check into Roomzzz Nottingham and freshen up for the evening ahead. Settle into your room, then have a little snooze in the comfortable bed or catch up on a bit of TV before stepping into a warm shower. Tea, coffee and milk are all provided in the room so you can quench your thirst too. Roomzzz is located only a couple of minutes' walk from the city centre so whatever you have planned for your evening in Nottingham, you're never far away from the action.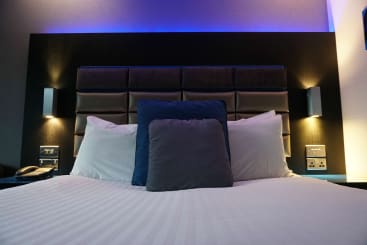 Pizza at Oscar and Rosie's
7.30pm

Oscar and Rosie's is regularly called the best pizza in Nottingham. And we can confirm that it is really, really, good. Book a table in advance at this down to earth restaurant and get ready to enjoy one of the most delicious 14 inch pizzas you've ever had. Oscar and Rosie's also have metre-long pizzas – could you manage one to yourself? – and there's a great vegan and gluten-free section too so Oscar and Rosie's really is a place that everyone can enjoy!
You might enjoy: A Vegetarian Guide To Nottingham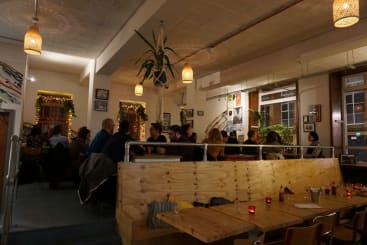 Stay In Or Go Out
10pm

After a fulfilling pizza, you can either head back to Roomzzz, or try out one of the many bars in Nottingham. Whether you want to try one of Nottingham's craft beer bars, a classy glass of wine, or a fun cocktail, you'll find somewhere to enjoy the rest of the evening just by wandering around the city. There's also a bar called The Boiler Maker which looks like an overcrowded boiler shop from the outside but delve in a little deeper and you'll discover one of Nottingham's hidden gems…
Day 2 In Nottingham
Take Advantage Of The Grab and Go Breakfast
8am
One of the main advantages of Roomzzz is that you don't have to get dressed for breakfast. Throw on your casual clothes, go to the
Grab and Go
area and fill your bag with a selection of fresh pastries and fruit. There's also fruit juice on offer and you can pick up your morning coffee from the machine here too. Now go and enjoy your breakfast in bed for a leisurely couple of hours before the day begins.
Check Out Of Roomzzz Nottingham
10am

Check out of Roomzzz Nottingham and be one of the first people of the day to visit Nottingham Castle. This castle was originally built by William the Conqueror in 1067 as a motte and bailey design. Since then it has been added to, demolished, rebuilt, burnt down, and finally remodelled in 1878. Underneath the castle, you'll find a maze of more caves which date back to medieval time and there's more than 300 steep steps into the depths of the caves. Taking a tour here is a must to learn all about the history of this amazing places.
Brunch At Cartwheel Coffee
12.30pm
Brunch at Cartwheel Coffee and Roastery is something you really shouldn't miss out on. It looks like a tiny coffee shop from the outside but inside you'll find a delightful coffee shop with great service and even better food. Pick a table by the window or alongside the industrial style subway tiles and settle in for a good brunch in Nottingham. The smashed avocado and eggs are something you won't regret ordering and when paired with a latte or a mocha, well, it's a meal you'll definitely want to put straight on Instagram.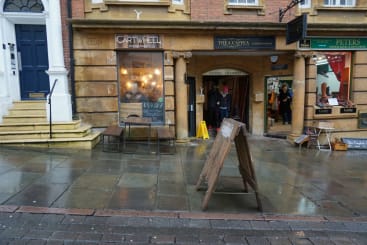 Visit Wollaton Hall
1pm
Either pick up your car from Roomzzz or catch a bus to Wollaton Hall. This historic house, which is around 20 minutes outside of Nottingham city centre was used as the setting for Batman's home, Wayne Manor, in The Dark Knight Rises. As well as being an impressive filming location, Wollaton Hall is also home to a Natural History Museum and a Deer Park. Step into the house to admire the architecture or wander around the grounds to spot the red and fallow deer that roam freely on the land. Entry to Wollaton Hall and Deer Park is free but if you're parking it costs £3 for 3 hours or it's £5 if you're staying all day.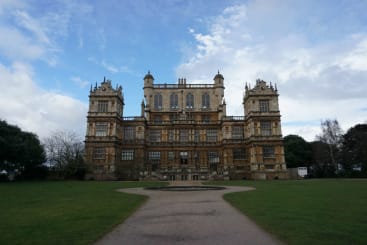 Dinner At Annie's Burger Shack
5.30pm
For your last few hours in Nottingham, have an early dinner at Annie's Burger Shack. This place is well known in Nottingham for serving all original recipes and monthly themed burgers as either 100% vegan, veggie, or meaty. And there are plenty of options so pick wisely, we can guarantee you'll be spending a while browsing the menu…
Home Time
8pm
It's time to head home. Although it's a whirlwind 36 hours in Nottingham, you'll get a good taste of what this city has to offer. There are plenty of food options and a lot of culture to soak up. The best part though, there's still plenty more to discover if you're to come back again.
Have you visited Nottingham before? Have we missed anything out of this epic 36 hour guide to Nottingham? If you'd like to visit, you can book online to stay at Roomzzz Nottingham. Also, don't forget if you use #Roomzzz on social media, you could win a free stay at a Roomzzz location of your choice.