Staying In Manchester: Our 48 Hour Guide To Experiencing The City
Categories

Length

3 min read
Author

Roomzzz
Manchester is one of the coolest cities in the UK. It's the home of Oasis, Manchester United and Manchester City football clubs, and there's a determination and personality in this city that can't be matched in many other places. If you spend 48 hours in Manchester, you'll have a great time and here's our guide for spending a couple of days in this incredible city…
Day 1
Arrive in Manchester
3pm
There are two Roomzzz Aparthotels in Manchester –
Roomzzz Manchester City
and
Roomzzz Manchester Corn Exchange
. Both are located in the city centre so both are really convenient for the shops, train stations and attractions in Manchester. You can't go wrong with either! Settle in, freshen up, and get ready for a fun evening ahead.
Check out Manchester Corn Exchange
5pm
Start your evening early and celebrate your first night in Manchester with drinks in the Corn Exchange. On the doorstep of Roomzzz Corn Exchange, you can enjoy drinks from Banyan or The Cosy Club – if it's sunny and warm outside, you can even sit outdoors at both of these venues. Perfect for those summer nights! Manchester Corn Exchange also arguably hosts some of the most competitive food outlets the city has to offer… all in one spot! If you're a keen foodie, and you're looking for places to eat in Manchester, then the malagueta chicken dish is a super choice of food, available to eat at Cabana. But, for a good feed in Manchester head to Mackie Mayor for some food…
Get food at Mackie Mayor
7.30pm
It's time for food so wander up to Mackie Mayor. It's an 8-minute walk so you can either travel on foot or get a taxi if you need to. Mackie Mayor is a Grade II listed building and last year, it was transformed into one of the most beautiful food market halls you'll ever see. With a selection of food including Honest Crust Pizza, Baohouse, Fin Fish Bar, and Wolf House Coffee, you'll definitely find something here that you want to devour. The best thing is, everyone can eat different food so it's a great option for a casual bite to eat – perfect for a Friday night!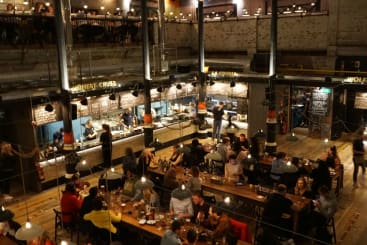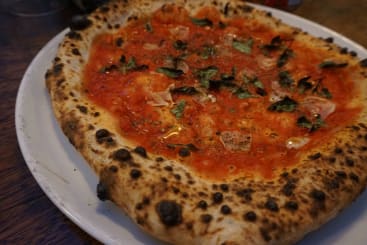 Relax With A Night Cap At Common
9.30pm
Enjoy a nightcap at Common, an achingly cool place that's so hip it hurts. Relaxed drinks are the thing here so don't go for a wild night, as Common really is a cosy and quiet Manchester bar – remember, there's still tomorrow for a wild night if that's what you're wanting from Manchester.
Day 2
Grab & Go breakfast at Roomzzz
10am
Enjoy a Grab & Go breakfast at Roomzzz – just simply pick what you want from the fresh pastries, fruit, yoghurt, tea, and coffee. We think the best way to enjoy this is in bed but you can also take out to enjoy on the way to your first stop of the day.
Manchester's Northern Quarter
11am
You might have got a taste of the Northern Quarter at Mackie Mayor but it's a totally different vibe in the day and the perfect place to check out some street art. No matter where you turn in the Northern Quarter you'll find some incredible pieces of work including many representations of Manchester Worker Bee symbol. There really is lots to see in Manchester's Northern Quarter. How many pieces of street art can you find on your walk?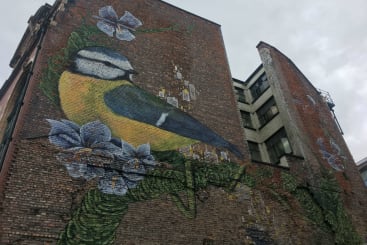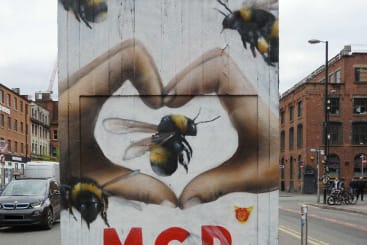 Take A Coffee Shop Break
1pm
It's time for a well-deserved break. Head to Takk in the Northern Quarter, (yes, we really do love the Northern Quarter!) an Icelandic inspired coffee shop that serves a good brew as well as some delicious food and cake. Try the Nduja & Eggs or the Takk M.A.C Sandwich – a sourdough sandwich that includes maple smoked streaky bacon, smashed avocado, and chipotle ketchup, a really exquisite dish. Even if you don't stop here – you could spend a whole day hopping around the coffee shops of the Northern Quarter – there are other places including Fig + Sparrow and Foundation Coffee House that provide the perfect space for a sit-down.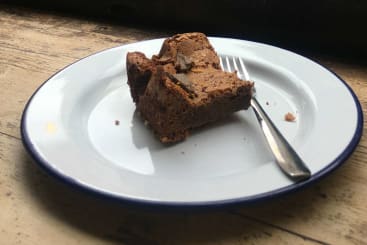 Play A Round Of Junkyard Golf
3.30pm
Junkyard golf is the ultimate place to play crazy golf. With neon lights, 3 different courses, and a cool bar, Junkyard Golf is fun and a great way to spend an afternoon with friends or family. Each course is a 9-hole course and you can choose from the circus-themed Bozo, Pablo – a jungle themed course, and Gary, a crazy golf route that takes you through a scrapyard! It's a great place if you're a young family and especially if the kids don't want to walk around the city much. And for groups of friends, the winner can get the quirky drinks in at the bar!
Get Ready At Roomzzz Aparthotel
5.30pm
The best thing about Roomzzz is that it really is a home away from home. Go back to your apartment and use it just like it's your own place. Get your friends or family around, get some snacks in, and enjoy the start of your second night in Manchester.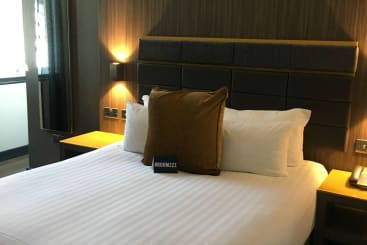 Dinner At Australasia
6.30pm
Australasia is a great place in Manchester for drinks but it's the food and location that impresses the most. Located in Spinningfields in Manchester, Australasia serves up modern Australian cuisine blended with Indonesian and Southeast Asian influences. The suckling pork belly with pineapple curry is not to be missed and neither is the chocolate soufflé for dessert.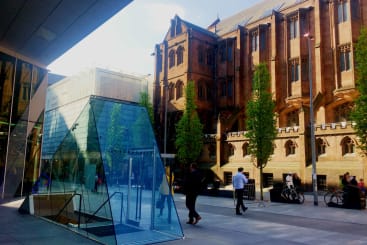 Rooftop Views At 20 Stories
9pm
20 Stories is one of Manchester's newest bars and it's certainly a showstopper. Also located in Spinningfields, 20 Stories provides 360 views over Manchester from its light and airy terrace – you won't find anywhere else like it. This place has an exclusive feel but is free to enter, just be aware you might have to queue for a bit to get in on a weekend!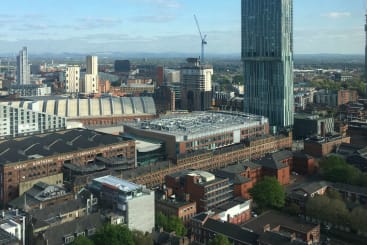 Day 3
Check Out Of Roomzzz Aparthotel and Enjoy Breakfast at Moose Coffee
10.30am
Enjoy a lie in on your second morning in Roomzzz Manchester City or Roomzzz Manchester Corn Exchange before checking out. Then it's time to head out for a leisurely brunch at Moose Coffee on York Street. This place prides themselves on creating authentic American and Canadian dishes and the breakfasts don't disappoint! Sit inside or outside and enjoy Moose Waffles, an all-day breakfast, or American pancake stacks that come with a huge variety of toppings including streaky bacon or chocolate and hazelnut spread!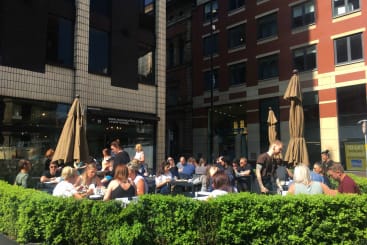 Take A Look Around The John Rylands Library
12pm
You might not think a library is worth a visit but The John Rylands Library is an extraordinary place that – for Harry Potter fans out there – looks like a Manchester version of Hogwarts. Created more than 100 years ago and is one of the world's best collections of rare books and manuscripts and was gifted to Manchester and its people by Enriqueta Rylands in memory of her husband John. It is now part of the University of Manchester and is used by students as a place to study and learn.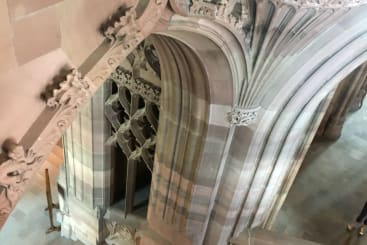 A Visit To The Manchester Museum Of Science And Industry
1pm
The Museum of Science and Industry is a great place for children and adults alike that want to learn more about the industrial revolution, discover the history of aircraft in the Air and Space Hall, or find out what it was like for Tim Peake to descend through earth's atmosphere with their VR simulator. You can easily spend an afternoon here and best of all, it's free.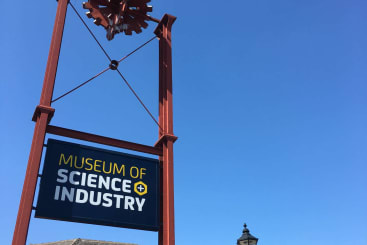 It's time to leave Manchester
4pm
Although it's been 48 hours in this magnificent city, you've by no means scratched the surface. There are still all the shops to explore, the canals to discover, and the music and sporting venues that make this city legendary. But that's just an excuse to come back again, isn't it?
Have you visited Manchester before? If you do stay at Roomzzz, make sure you don't forget to use #Roomzzz in your social posts for the chance to win a free night at a Roomzzz Aparthotel location of your choice!