The Top 9 German Markets In The UK You Need To Visit
Categories

Length

3 min read
Author

Roomzzz
Are you in the Christmas spirit yet? Well if you visit any of these German markets in the next few weeks, you soon will be! From Lincoln to Manchester and Birmingham to Edinburgh, each one offers something slightly different. The question is though, which one will you be going to?
Bath
November 23rd to December 10th
Picturesque Bath becomes even more photogenic in the festive period. Over 200 wooden chalet-style stalls line the streets around the Roman Bath and Bath Abbey. Many stalls are also run by local Bath businesses too which gives the German market in Bath a unique feel.
Edinburgh
November 17th/18th to December 24th/January 6th
The German market in Edinburgh is an award winning occasion that keeps people coming back year after year. There are two markets in Edinburgh; one on East Princes Street Garden and one on George Street. Both are guaranteed to give you the festive feelings and will make your city break that bit more special.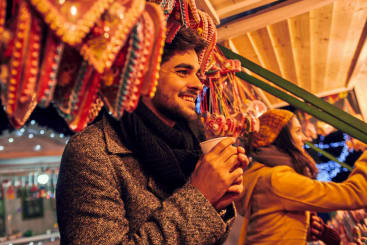 Birmingham
November 16th to December 24th
Birmingham's German market is the biggest German market outside of mainland Europe. There are hundreds of stalls selling great stocking fillers, Christmas decorations, and of course a lot of delicious food and drink! This German market is also open until Christmas Eve so you can get your festive fix right up until the big day!
London
November 10th to December 30th
Is there any city in the UK more festive than London at Christmas? It's certainly a favourite for people all over the UK and the Southbank Winter Festival is where a lot of people go. There are around 50 stalls laden with Christmas jumpers, roast chestnuts, and great books. Plus there are fairy lights everywhere and plenty of food stalls to eat at when you get hungry.
Manchester
November 10th to December 20th
The German marketing in Manchester is certainly one of the main Christmas markets of the north. It takes over the main streets of the city so where ever you go, you'll be greeted by a stall selling gluhwein, delicious pancakes or a giant frankfurter. And, if you're outside Manchester's Town Hall, keep an eye out for the giant Zippy and the singing moose!
Roomzzz Manchester City
is centrally located and
Manchester Corn Exchange
will be opening soon!
Lincoln
December 7th to December 10th
It might only be on for a few days, but the German Market in Lincoln sure does make up for the short time scale in sheer size. 250 stalls descend upon the grounds of Norman Castle and not only are there plenty of treats to look at but there is also a funfair and live music to entertain the crowds!
Leeds
November 10th to December 17th

Leeds Christmas Market yet again takes over Millennium Square in Leeds, bringing with it a whole load of Christmas spirit. Take a walk around the 40 wooden huts and gaze and the pretty candles, treat yourself to some delicious stollen, and drink in the Alp Chalet until late evening. It's definitely worth a visit if you're in Leeds!
Did you know there are three Roomzzz locations?
Leeds City
,
Leeds City West
and
Leeds Headingley
are all conveniently located for the centre!
Newcastle
December 11th to December 17th
For local and handmade food, grafts and gifts, Newcastle's short but sweet German market is definitely worth a visit. Located by Grey's Monument and on Grey Street and Grainger Street, you'll be able to pick up some little gifts that no one else will have in their stockings.
Roomzzz Newcastle
is open over the Christmas period, so make your booking today!
Chester
November 16th to December 20th
70 traditional chalets will sit in the heart of Chester this Christmas and they all centre around a beautiful Christmas tree. Visit stalls including The Great British Cheesecake Company, Gingerbread House Confections and Cheshire Candle Company are just a few of the many stalls you'll find in this pretty city.
If you're visiting Chester's Christmas Market, stay at
Roomzzz Chester City
during the festive season.