An Interview With Illustrator Katie Edwards
Categories

Length

3 min read
Author

Roomzzz
Our new Roomzzz Manchester Corn Exchange is now open! We're really proud of this new location and one of the most exciting parts of our new Aparthotel, are the customised illustrations from artist Katie Edwards. Katie was commissioned to create a series of screen-prints that represent the great city of Manchester and its unique history. There are also a selection of screen-prints which show-off Roomzzz and all its facilities in a fun a quirky way.
We hope you love the pieces of art as much as we do and to give you a bit of background on the artist, Katie has answered a few questions so we can find out a bit more about her and what inspires her art.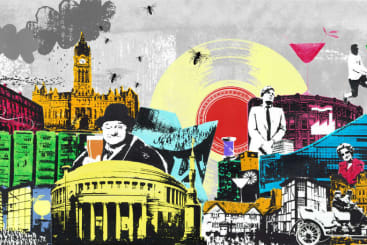 Your work in incredibly unique. What inspires you?
After growing up in the Lake District and spending some time in Canada, I've been closely in touch with the outdoors, the countryside, and animals. My screen print illustrations reflect my appreciation for natural beauty, yet sometimes they've been mixed with familiar city-scapes. My style of illustration came about from the juxtaposition of different objects to communicate a new idea.
This way of working appealed to me because I could create quite imaginative pieces with quite ordinary photos. I didn't consciously always include an animal or nature in my pieces, but this was what I was interested in and so they were the basis of my ideas. Animals also hold so many hidden meanings and so often create a symbolic image.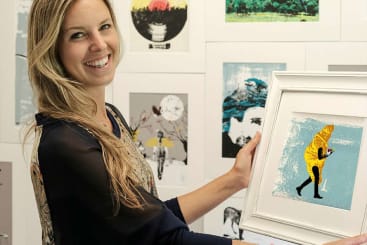 I work with a lot of magazine and newspaper editors to create an illustration that draws people in to read their article. Producing clever or thought provoking imagery can really brighten up a piece of writing.
Can you tell us a bit about your background? How you became an illustrator and why did you choose screen printing?
Well, I studied Graphic Arts & Design at Leeds Beckett University, and have lived in London and Canada before moving back to the Lake District. I first tried screen printing on my art foundation course, and I loved the process from the get go. I find all printmaking techniques extremely satisfying, that moment you reveal the print is very pleasing every time. Screen printing appealed to me because it could be combined with placing photographs in unusual compositions and I enjoy the printing process – other techniques can be very laborious. The planning and set up of screen printing can take some time. But once you're ready to print it is an enjoyable and unpredictable, yet organic, experience which produces a unique hand-crafted textured aesthetic.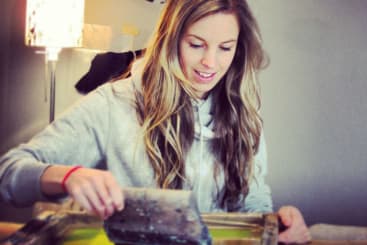 How have you found the Roomzzz project?
I've loved working on the Roomzzz project. I've been able to produce some fun, quirky illustrations that I can't wait to see on location.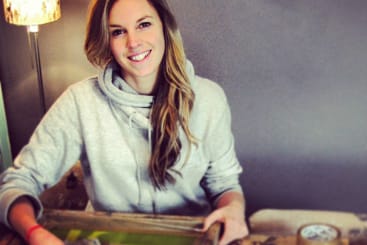 What is your favourite illustration you have done for us and why?
I think 'Room to Swing a Cat', 'Breakfast to go', 'Coffee Night and Day' and '2000 Sprung Beds' are all funny illustrations. They convey the message of Roomzzz in a great and entertaining way. The large Manchester collage is also a favourite. It's full of colour, there's lots going on, and there's more to see every time you look. Just like Manchester.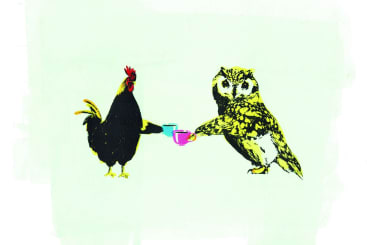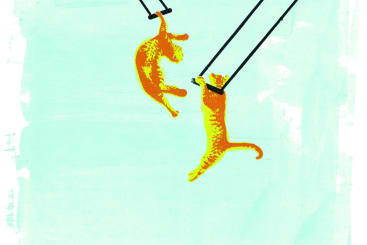 What do you want people to see and feel when they look at the illustrations that you have produced for Roomzzz Manchester Corn Exchange?
I hope my illustrations evoke some emotion when people see them. Whether that is laughter, happiness, or an urge to go and explore the city. Or they can simply enjoy the art for art.
Will you be visiting Manchester Corn Exchange? If you want to visit and have the chance to see these gorgeous pieces of art, you can book for Roomzzz Manchester Corn Exchange online today!