THE YORK FLOOD ALLEVIATION SCHEME (FAS)
Categories

Length

3 min read
Author

Roomzzz
THE

YORK

FLOOD

ALLEVIATION

SCHEME

(

FAS

) is a partnership project with the Environment Agency to carry out major flood defence upgrades within the city.
WHY IS THIS WORK NECESSARY?
Situated on low-lying land where the River Foss joins the River Ouse, the city of York has always been prone to flooding. In recent years, however, the onset of climate change along with changes in the way land is managed upstream has caused these floods to become more severe.

HOW WILL THIS WORK AFFECT MY STAY AT ROOMZZZ APARTHOTEL?
From May 2021, this work will result in the loss of both pedestrian and vehicle access along Terry Avenue. This work is extremely important to the future of York and we are fully supportive of the project. However, this will mean alternative access to the hotel is needed for guests during this period and occasional daytime noise from the EA work carried out. Please accept our sincere apologies for any inconvenience this may cause. We have created this map to help and guide you in and around the aparthotel during this time.

Click here to download the full map.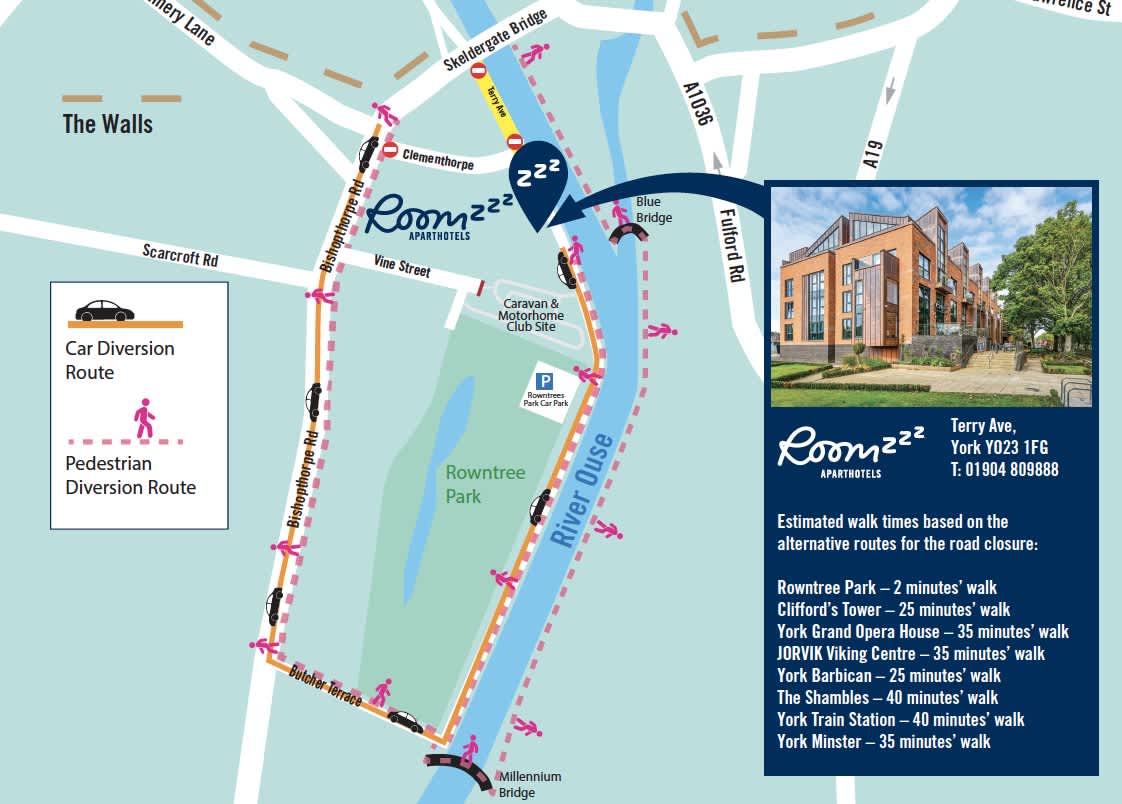 PARKING
Limited on-site parking will continue to be available on a first-come-first-serve basis and charged at £15 per night. If upon arrival, on-site parking isn't available, there are alternative local car parks as listed below.

Q Park Barbican, Kent St, York, YO10 4AH
Nunnery Lane Car Park, Nunnery Ln, York, YO23 1AA

ARRIVING BY CAR
When arriving at Roomzzz York City by car, all vehicle access to the aparthotel will be via Bishopthorpe Road (See map), turning left onto Butcher Terrace and following the road until you reach the aparthotel on your left.
ARRIVING ON FOOT.
Before checking in, guests can access the aparthotel on foot via Butcher Terrace, or walking down the opposite side of the river, crossing the Millennium Bridge and then back up the river until you reach Roomzzz York City on your left.
ANY QUESTIONS?
As always, our friendly reservations team and hotel reception are available daily to help with any concerns or queries you may have.

Central Reservations Team
Tel: 0203 504 5555
Email: reservations:@roomzzz.com
Opening Hours:
Monday – Friday: 8am – 6pm
Saturday – Sunday: 9am – 6pm
Bank Holidays: 9am – 6pm

Roomzzz York City Reception
Tel: 01904 809 888
Email: york@roomzzz.com
Opening Hours: 24 hours, 7 days a week