The Perfect Getaway Weekend In Chester
Categories

Length

3 min read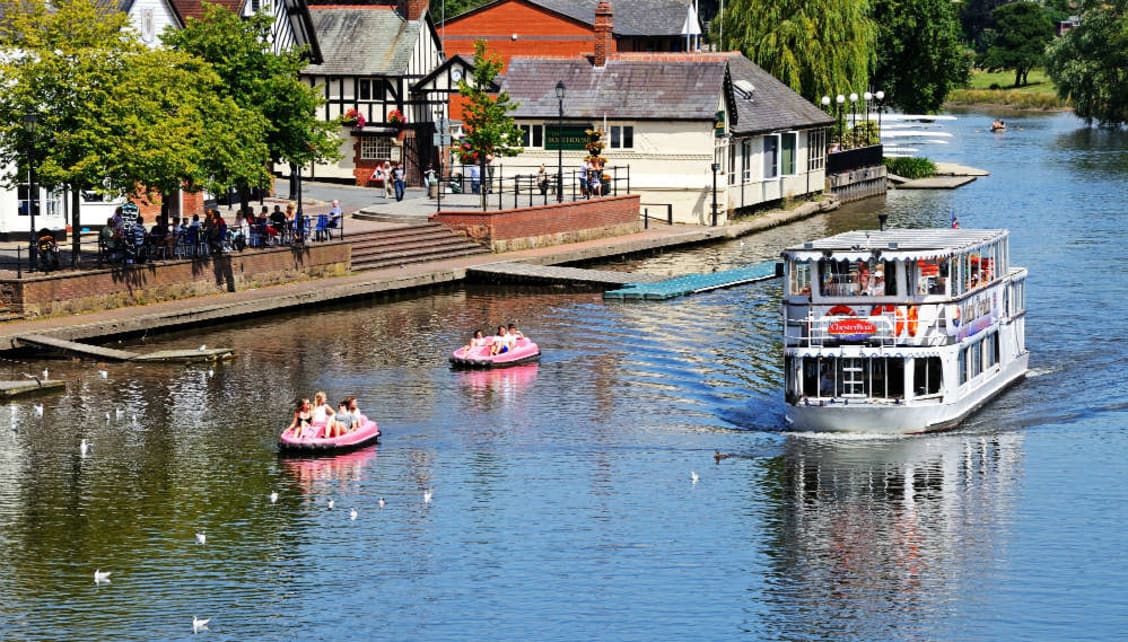 Author

Roomzzz
This gorgeous walled city is one of the oldest in Britain and has a charm that many people can't resist. Whether you're coming here to visit one of the oldest racecourses in the UK, walk along the historic walls, or shop until you drop in Chester Rows, there are a lot of things to see and do in Chester that can create a perfect weekend getaway.

If you're planning a city break this year, here's how to have the perfect getaway weekend in Chester while staying at Roomzzz Chester…
Chester Zoo

From Andean bears to elephants, and flamingos to giraffes, Chester Zoo hosts over 21,000 animals in over 125 acres of zoological gardens. Chester Zoo is highly involved in conservation projects in the UK and abroad and is passionate about sharing knowledge about their animals and preventing extinction. See the Bornean Orangutan in the Realm Of The Red Ape habitat or find the Sumatran Tigers in the Islands At Chester Zoo habitat. You could easily spend a day here so make sure you put enough time aside to explore and learn about animals from all over the world. Tickets can be bought at the gate when you arrive at Chester Zoo or if you want to save some money, buy online for discounted tickets.
Chester City Walls

A walk along the city walls is a must when you spend a weekend in Chester. They're the oldest, longest and most complete in Britain so you'll get a good idea of the city's history doing a loop on the walls. The 2-mile circuit will take you past sights such as the King Charles' Tower, Chester Racecourse and Chester Castle. You'll also walk part Water Tower which used to be where cargo vessels dropped their load when the River Dee was deep enough to carry large ships.



Chester Cathedral

Founded in 1092, Chester Cathedral is still used today as a place of worship and learning. It's a place to engage in the history of Chester and appreciate the architecture of this incredible building. Be one of the thousands of visitors that come here every year and take the Cathedral at Height tour where you'll climb 125 feet above the ground to see some of Chester's best views. A guide will tell you all about the history and even secret spaces around the cathedral.



Roman Amphitheatre

There's no need to go to Rome to see a site where the Romans' used to entertain and train for the military. You can visit Chester's Roman Amphitheatre at any time of year but throughout the summer months, keep your eyes peeled for events and theatre performances which bring this historic venue to life.
The Flower Cup For Brunch

If you want to enjoy your weekend brunch in one of the most Instagrammable places in Chester, make your way to Flower Cup in Watergate Row. We hope you're not still hungry after your Roomzzz Grab and Go breakfast but this place serves brunch all day so you can even pop in for the afternoon if you want to. This place prides itself on serving up a variety of tea, speciality coffee, and it even sells a selection of seasonal flowers and plants.
A Cruise Along The River Dee

Whether you go for the 30-minute cruise or the 2-hour voyage along the River Dee, you'll certainly enjoy seeing Chester from the perspective of the river. Take in the sights of rural Cheshire as you pass the Crook of Dee, the Eaton Estate, and the Iron Bridge. As you cruise along the river you might see some wildlife so get your camera ready!



Shop In Chester Rows

Chester Rows are one of Chester unique quirks. Timbered galleries line the shops above Watergate Street, Northgate Street, Eastgate Street, and Bridge Street are the original galleries from the 13th century. Take a flight of steps to reach shops such as Jack Wills, Hotel Chocolat, The White Company, Zara and more!

Visit Chester in race season, make your way down to Chester Racecourse for the day. There are plenty of meets throughout the season and you can either go casual and take your own picnic in the grounds or dress to impress and go for the full package at Chester Races.

Have you been to Chester before? If it looks like the place you'd like to spend a weekend, take a look at Roomzzz Chester to start planning your weekend away. If you do visit Roomzzz, don't forget to use #Roomzzz on your social media posts for the chance to win a free night in any Roomzzz Aparthotel location.