8 Of The Best Cocktails In Leeds And Where To Find Them
Categories

Length

3 min read
Author

Roomzzz
With several annual festivals dedicated purely to cocktails and the art of making them, it's no secret that Leeds is a city that likes its drinks shaken and stirred. The influx of new bars and restaurants has only served to make the choice available even more interesting, with weirder and more wonderful concoctions cropping up all the time. Here are 10 of the best cocktails in Leeds and were to find them…
The Smoky Old Fashioned | The Alchemist
Getting cocktails in The Alchemist is never a quick affair, but the results are always worth it. Yes, being masters in alchemy, you wouldn't expect anything less than magic form these guys and the Smoky Old Fashioned is the stuff legends are made of.
Consisting of Woodford Reserve, maple syrup, and Jerry Thomas Bitters, this best-selling tipple is finished off with oak smoke and a giant ice ball – so moreish you're likely to stick around for another rather than doing a Houdini.
Check out their cocktail list here.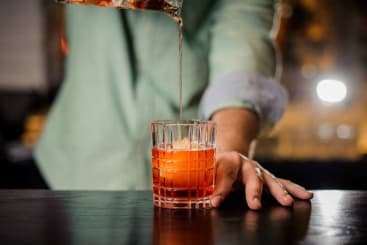 Chilli Shoulder | Bar Soba
This pan-Asian bar and restaurant have got one of the most adventurous cocktail menus in Leeds, and our favourite by far is the Chilli Shoulder. This tall drink consists of Monkey Shoulder blended malt whisky, fresh red chilli and ginger, peach puree and liqueur – this may sound a little strange, but it really does work, trust us!
Take a look at the Bar Soba cocktail menu here
.
La Rosa| Angelicas
Angelica is arguably Leeds glitziest cocktail bar and definitely one for those that like the finer things in life. The La Rosa blends Botanist gin, Solerno blood orange, egg white, lemon and sugar, and Peychauds bitters to create a refreshing drink that's perfect for the summer months. 
Seek out their drinks list here.
Silly Moo | Be At One
Be At One is hands down one of the best cocktail bars in the city, using far better ingredients than some of their more expensive peers. The Silly Moo is an indulgent mix of Jameson caskmates, vanilla ice cream, coffee, and cream. Originating from a secret New Orleans recipe that's meant to cure a hangover, this is definitely one that should be on your list for the night…
Jar O' Gin | Revolution
There are some nights when a dainty little cocktail won't do, and if you're out with a group and partying is at the top of your agenda, then you should try a Jar O' Gin pitcher at Revs. Consisting of either Bloom gin with fresh strawberries, or Beefeater gin with grapefruit and lime and then topped with Fever Tree tonic water, this will start your night off the right way.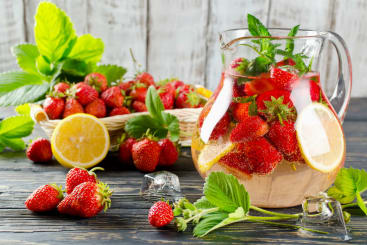 Copperhead Gin with Fever-Tree Mediterranean Tonic | Pintura
Pintura is a Basque inspired tapas restaurant with a secret weapon in the shape of an awesome gin bar in the basement. With over 80 brands of gin and counting, you're sure to find one that tickles your fancy. The gins served in a "Copa De Balon" are fantastic and our favourite is the Copperhead Gin with Fever-Tree Mediterranean Tonic; finished off with an orange twist and cardamom pods, it's got a nice warm kick that will leave you wanting more.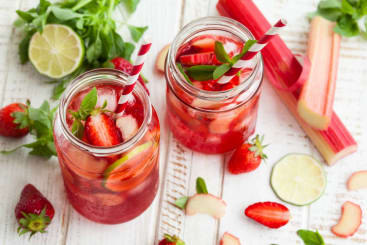 Rhubarb Spritz |Bibi's
If you're a fan of The Great Gatsby then you'll love the cocktail bar at Bibi's. Glitzy and glamourous with a 1940's Hollywood appeal, it;s the kind of place you can imagine Frank Sinatra hanging out. The Rhubarb Spritz blends rhubarb gin,  aperol, plum bitters, and then it's topped with prosecco and soda water. It's exquisite.
Passion Fruit and Basil Crush | The Botanist
You won't be surprised to learn that The Botanist is related to The Alchemist (both part of the Living Ventures Group) when you see their fantastic drinks list. One of the strangest drinks they offer is the Passionfruit and Basil Crush, but don't let the odd ingredients put you off – it's delicious. With Diasronno and Drambuie, fresh basil, lime and orange juice, and passionfruit syrup its a combination that doesn't work but it definitely does.
Which cocktails would you recommend in Leeds? Don't forget if you stay at Roomzzz Leeds City, use #Roomzzz on your social posts for the chance to win a free night at a Roomzzz location of your choice!