Top 5 Things To Do In Nottingham With Kids
Categories

Length

3 min read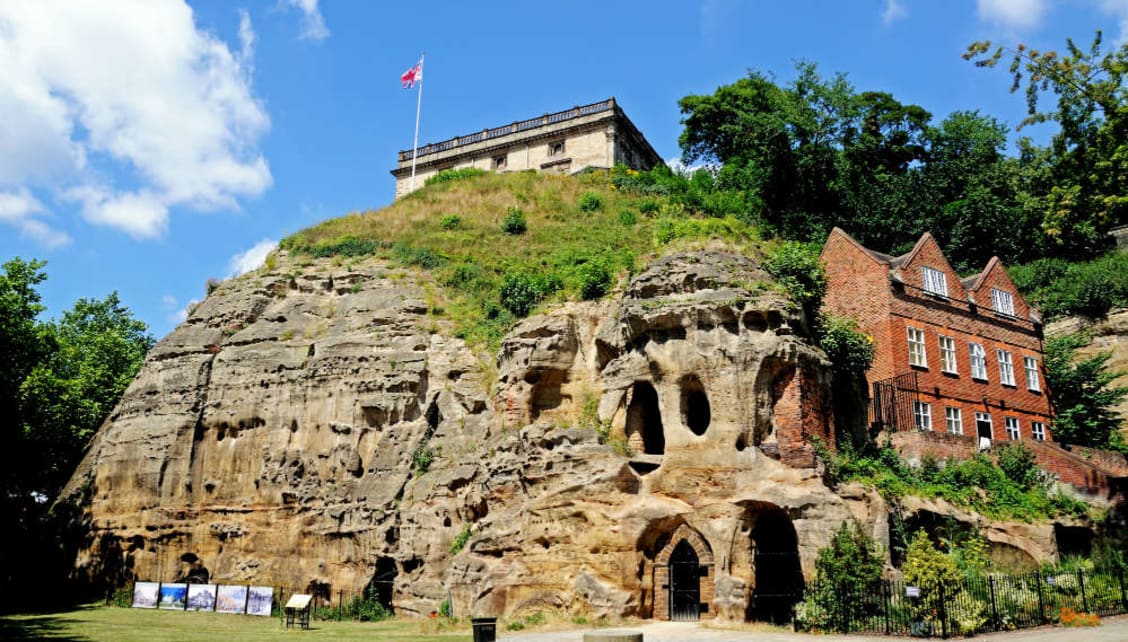 Author

Roomzzz
If you're a family staying in our Roomzzz luxury hotel in Nottingham City Centre, you might be wondering what you can do as a family. Well don't worry because there are plenty of things to do in Nottingham with kids and here's what you can get up to…

Explore Nottingham's Cave System
The City Of Caves
Would you believe that Nottingham is built on a system of sandstone caves? Well, it is and you can explore the caves at City of Caves and also at Creswell Crags. The City of Caves can be accessed via the upper level of the Intu Broadmarsh Shopping Centre in the city centre. There are over 500 caves under the streets of Nottingham and here you can explore part of the maze the caves create. In the past, these caves have been used as WW2 air raid shelters and even a medieval tannery where animal hides used to be processed to create leather. To learn more about the caves, you'll get a hand-held audio guide enabling you to take the tour at your own pace.
Adults: £7.95, Under 18s: £6.95, Under 5s: Free
Cresswell Crags
Creswell Crags
is about 40 minutes away from the city centre. But if you and the kids don't mind venturing away from your hotel in Nottingham, it's well worth a visit. Unfortunately under 5s aren't allowed in to the tour but there's plenty to explore outside of the caves. The gorges make for a stunning walk with steep cliffs lining the valley, ancient woodlands, and rural villages mean lots ofphoto stops along the way. If you do want to tour the caves, there are two to choose from where you can step back in time to the Ice Age. The Rock Art Cave takes you and the kids around Church Hole Cave to see Britain's only known piece of rock art. This drawing depicts the shape of a stag and is one of the only cave drawings known to exist in the UK.
Parking: £3 all day
Rock Art Cave Tour
Adults: £8.50, Children: £6
Ice Age Cave Tour
Adults: £7.50, Children: £5.50
Sail Through The Trees At Go Ape
Go Ape is a thrilling adventure for kids and adults alike. Climb your way through the trees of Sherwood Forest on the adult or junior version of the Tree Top Adventure. These experiences, where you enjoy Zip Wires, Tarzan Swings and Rope Ladders, take around two to three hours. Alternatively, for a more relaxing journey, Segway through the woodland and take a tour through nature. The Segways, which are powered by electric batteries, means they don't disturb any wild animals. Whichever activity you choose, Go Ape is fun for all the family!
Forest Segway
£35
Tree Top Adventure
Adults: £33, Young Adults: £25
Tree Top Adventure Junior
All ages: £18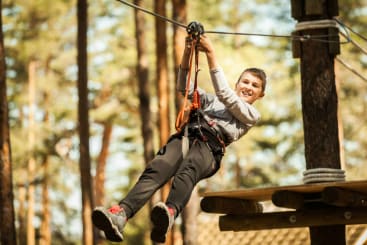 Nottingham Castle
To discover the history of Nottingham and it's most famous person, Robin Hood, Nottingham Castle is the place to go. This building's has an interesting history that your kids will love learning about. It was originally built in 1067 by William The Conqueror in a motte-and-bailey design. Over the years, Nottingham Castle has been destroyed and rebuilt several times and has been the centre of many battles, including the English Civil War and the rebellious rule of Prince John.
Nottingham Castle will also more than likely have seen the presence of Robin Hood, Nottingham's favourite outlaw. Robin Hood robbed the rich to give to the poor and with the help of his accomplices, the Merry Men, it's possible he managed to escape Nottingham Castle – which used to be a courthouse – when and if he was captured.
Take a picture with Robin Hood's statue outside Nottingham Castle's Gatehouse and learn about the fascinating history of Nottingham's most recognised building.
Adults: £8, Under 16s and Over 65s: £6, Family Ticket: £20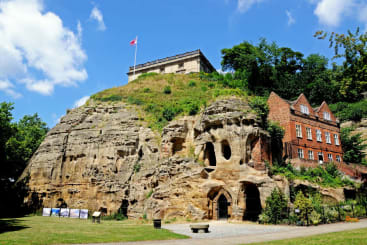 See The Deers At Wollaton Hall
Wollaton Hall is only a short journey from you Roomzzz hotel in Nottingham. It's well worth the trip too as you can go for a lovely walk in the fresh air, take a tour around the Elizabethan Wollaton Hall, or see some of the 200 deer that are roaming around Wollaton Hall Park.
There are 80 red deer and 120 fallow deer in the grounds and these cute creatures have been at Wollaton Hall since the 14
th
Century. Make sure to keep a safe distance though as they can be protective during the mating season.
IF you want to stretch your legs though, there are walking routes around the grounds. There's a one mile walk and a three mile walk so you can choose which suits you best. When you're back at your luxury hotel in Nottingham city centre, you can relax after a great day in the fresh air.
3 Hours Parking: £3, All Day Parking: £5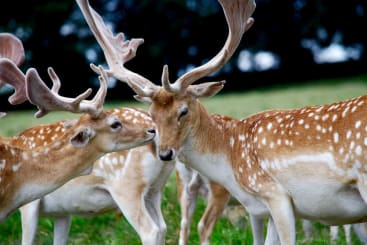 Visit The Home Of Robin Hood at Sherwood Forest
If you want to know more about Robin Hood, then venture from Roomzzz hotel in Nottingham and visit Sherwood Forest. This is one of the main places Robin Hood and his Merry Men lived while they were being heroic outlaws.
Not only can you retrace the footsteps of Robin Hood, you can also see The Major Oak. It's the largest and oldest tree in Sherwood Forest and is thought to be between 800 and 1000 years old. The Major Oak is even supported by metal poles as the weight of the tree is an estimated 23 tonnes!
All Day Parking: £3
Have you stayed at the Roomzzz luxury hotel in Nottingham city centre with your family before? Let us know if you have over on Twitter!