The Benefits Of A Grab And Go Breakfast at Roomzzz
Categories

Length

3 min read
Author

Roomzzz
One of the big perks of staying at a
Roomzzz Aparthotel
is the Grab and Go breakfast. Open from 6.30am until 10.30am every day of the week, the Grab and Go breakfast is a convenient way to enjoy your first meal of the day. Here are the benefits of a Grab and Go breakfast at Roomzzz.
You Can Enjoy Breakfast In Bed
Don't you wish you could just enjoy breakfast in bed when you're away? At Roomzzz, you can do just that. Pick what you like from the available fresh pastries, juice, and coffee, a selection of fruit, and a variety of yoghurt, and take it all back to your room to enjoy in bed.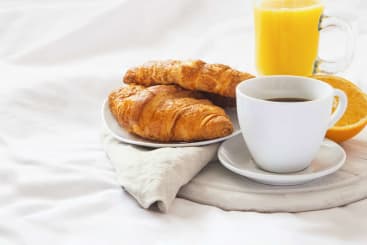 Take It Out
There's no need to stay in with a Grab and Go breakfast. If you're sightseeing, take out breakfast to a nice spot in the city and enjoy a buttery croissant with a coffee in a new destination. Alternatively, if you're visiting on business and you need to get to a meeting, just take what you like in a paper bag and devour on the go.
You Don't Have To Wait For Someone To Take Your Order
We know how annoying it can be waiting for someone to take your food order, especially if you're hungry. You don't have that problem at Roomzzz. You can walk straight up to the Grab and Go counter, pick up a brown paper bag, and fill with some delicious breakfast treats.
Enjoy At Your Leisure
There's no rush at Roomzzz. Take your time choosing your breakfast. You can even just enjoy in your PJs if you want. The Grab and Go breakfast is designed to be fitted around your schedule, not the other way around.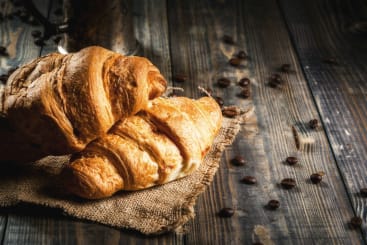 It's Ready And Waiting For You
You decide you're hungry and then two minutes later, you've got the food in your hand. That's how quickly you can get breakfast at Roomzzz. Every morning from 6.30am, we lay out a fresh batch of croissants, danish pastries, pain au chocolat, fresh fruit, and fruit juice so that you can enjoy breakfast when you're ready.
It's Free
When you go away, sometimes you have to pay extra for your breakfast. At Roomzzz Aparthotel, you never have to. Your Grab and Go breakfast is always included in the price of your booking which means you have one less thing to budget for when you stay with us!
How do you make the most of a Grab and Go breakfast at Roomzzz? Don't forget, use the hashtag #Roomzzz on your social media posts to be in with the chance of winning a free night at any Roomzzz Aparthotel!