Things To Do In Nottingham With The Kids
Categories

Length

3 min read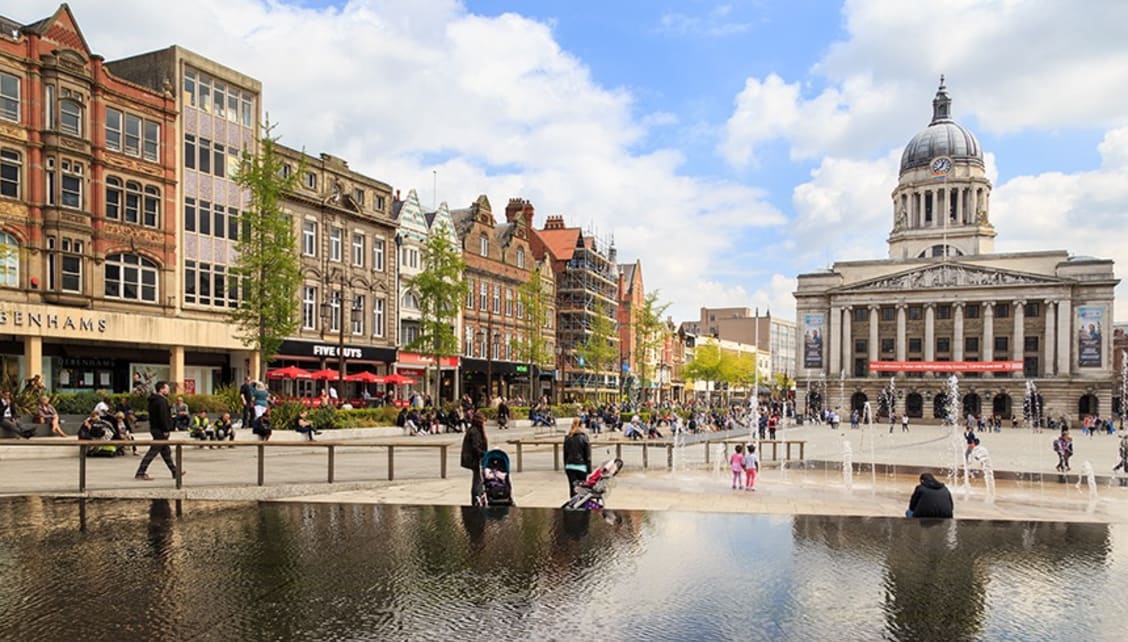 Author

Roomzzz
Nottingham is host to a number of family friendly activities and a weekend away at Roomzzz Nottingham along with this list of places to visit and activities to experience makes for a fun family break.

Wollaton Hall and Park
You may recognize this Elizabethan house as 'Wayne Manor' and that's because the Batman movie The Dark Knight Rises was filmed here.
Wollaton Hall sits on 500 acres of deer park, built in 1588 it has now become the Natural History Museum. What was once the Courtyard Stables is now the city's Industrial Museum and Steam Engine House. The family friendly exhibitions often explore art and the environment.
The Park has a number of walking routes, formal gardens, The Camellia House which is the oldest cast iron glasshouse in Europe and a botanic garden, all of these spots are beautifully picturesque and perfect for fun activities with kids.
Find Wollaton Hall & Park on the map
Sundown Adventureland
Sundown Adventureland is a theme park, best suited for under 10s and families. There are so many fun activities and rides for kids ranging from the Rodeo Corral indoor play area, Fort Apache and Captain Sandy's play Cove, Robin Hood ride and so many more. They also have a huge four storey indoor jungle themed play area, shops a cafeteria and café.
Find Sundown Adventureland on the map
The Whitepost Farm Centre
Spread over 25 acres and housing more than 3,000 friendly animals for families to get up close to including cows, pigs, sheep, llamas and hens as well as the more unusual chinchillas, bats reptiles and spiders.
There are indoor and outdoor play areas with 2 forts, large trampolines and a go-kart track with pedal go-karts. A farm favourite is the opportunity to get 'hands on' and hold baby animals such as chicks and ducklings and bottle feeding the goat kids.
Find The Whitepost Farm Centre on the map
Robin Hood's Wheelgate Park
Wheelgate Park promises to be full of fun activities for kids in Nottingham, it has a new outdoor waterpark, a 20,000sq ft. indoor zone full of activities and rides with four floors of high slides, tower climbs, multi swings, mazes and ball pools. Work out some energy on the trampolines and bouncy castles, the outdoor favourite is the bumper boats, a chance for kids to splash about, have fun and enjoy a day out with the family.
Find Robin Hood's Wheelgate Park on the map
Galleries of Justice Museum
The Museum is based at Nottingham's old courthouse and gaol, it offers a number of free exhibitions, tours and a themed café. It's a chance to travel back in time to when Nottingham Shire Hall was the capital place in the UK for crime and punishment.
You can put your family in the dock and be part of a trial in the original Victorian courtroom and if sentenced be sent down to the original prison cells.
The Galleried of Justice Museum is informative and interactive so it even engages the kids.
Find Galleries of Justice Museum on the map
Attenborough Nature Centre
The nature centre hosts an array of activities aimed at children such as 'Wildlife Watch Group', an outdoor learning area with a sensory nature trail as well as pond and bird feeding stations. This eco-friendly day out in Nottingham is scenic, with a lot of activities, learning opportunities and fun walking routes to explore and enjoy.
Find Attenborough Nature Centre on the map
Conkers
If you're looking for active, outdoor activities for kids, Conkers is an award winning attraction at the National Forest. There's 120 acres of woodland, lakes, ponds and play areas to explore or you can take their 18 stage activity trail challenge. If the weather isn't great on the day there are still over 100 indoor interactive exhibits.
Find Conkers on the map
Call us on 0203 504 5555 or email us directly at 
reservations@roomzzz.com
Alternatively send us a message through our contact form and one of our staff members will get back to you within 24 hrs.
Contact us