A family weekend away in Chester, where to go, what to see where to stay
Categories

Length

3 min read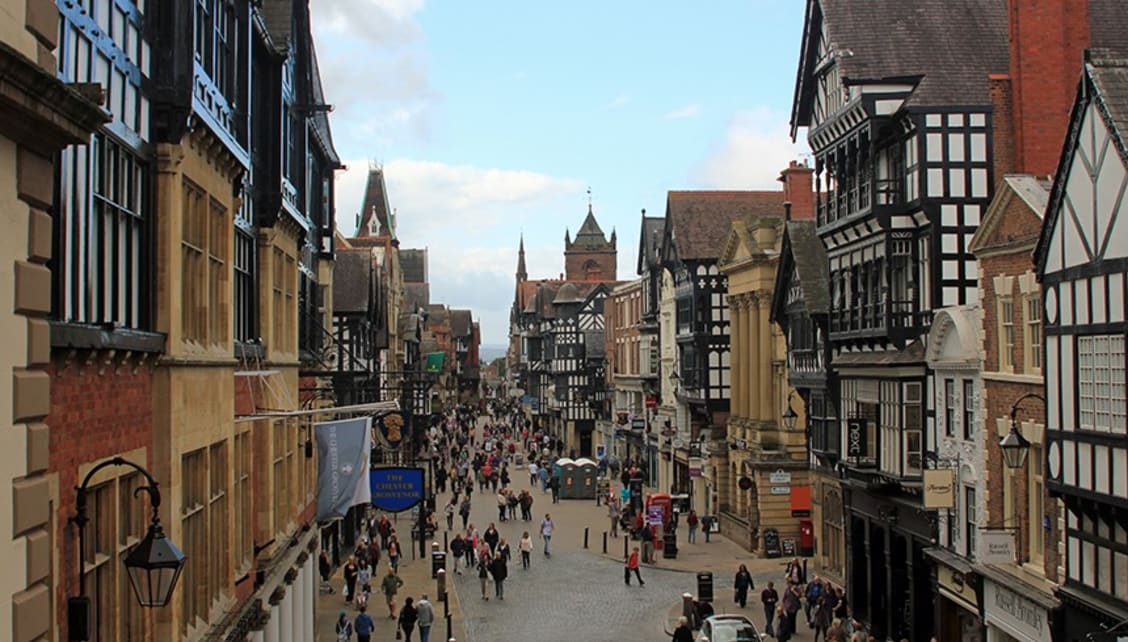 Author

Roomzzz
A weekend family break is often the perfect solution after a hectic week at work, the city of Chester boasts a number of family orientated activities and to make it even easier, we present to you a guide of our top 5 fun things to do, all near a  Roomzzz hotel in Chester.

Chester Zoo
Chester Zoo is the UK's number one wildlife attraction and houses over 20,000 animals from 500 different species. It makes for a fun family day out, from seeing the elephants and rhinos to the beautiful butterflies the 125 acres of garden is a fun outdoor day out in Chester.
Find Chester Zoo on the map
Blue Planet Aquarium
Go under the sea at Blue Planet Aquarium, it's a remarkable experience going under the water tunnel, surrounded by over 100 different species. The 3.8 million litre Caribbean Reef display is the main attraction of the aquarium. Its home to Europe's largest collection of sharks. They have daily 'Aquatheatre' shows and you can watch the divers feeding the fish, including sharks.
The numerous exhibits range from seahorses to piranhas and crocodiles to otters and star fish. The outdoor Pirate Adventure Playground is a favourite with kids. Then in Venom you can visit with jellyfish, scorpions, black widow spiders and vipers. Coral Cave on the other hand is home to hundreds of beautiful and bright reef fish. All in all the aquarium is a fantastic family attraction and makes for a fun day out in Chester.
Find Blue Planet Aquarium on the map
The Ice Cream Farm
Is this place not every kid (and adults) dream? You walk through a 'Flavour Forest' until you reach the Ice Cream Tree and that's not all, they have a 'Fudge Farm' where you can pet the animals, a 'Honeycomb Canyon' a indoor sand and water play area and so much more but it's their huge Ice Cream Parlour with nearly 50 flavours of award-winning ice cream that you can't miss.
Find the Ice Cream Farm on the map
Tatton Park
Tatton Park is a great family attractions for kids and families, among the gardens is Tatten Park's Neo-Classical mansion, aside from its 18
th
century grandeur the mansion houses a collection of paintings and books and one of the National Trust's finest libraries, additionally the servants quarters, domestic offices and Mansion gives an incredible insight into how life was and as such is historically fascinating.
The vast gardens include a maze, glasshouse and Japanese garden all of which promise to make for a scenic day out. Tatton Park's farm has many fun outdoor activities for kids such as feeding the goats and hens, meeting the donkeys and pigs. They also have a children's adventure area which has a woodland play trail, den building zone and two additional mazes.
Find Tatton Park on the map
Chester City Walls
The Chester City Walls is the best way to see the city. The Walls have a built in walk around the city, they were built by the Romans and on the 2 mile walk you get the chance to see parts of the city you would otherwise miss. With a lot of historical background the Wall is both informative and scenic for children and adults alike.
Find Chester City Walls on the map
Call us on 0203 504 5555 or email us directly at 
reservations@roomzzz.com
Alternatively send us a message through our contact form and one of our staff members will get back to you within 24 hrs.
Contact us
Join our Roomzzz Royalty Club today and Start saving up to 40% on your bookings.
Find out more